Features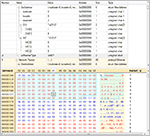 Network Traffic Data Monitoring
Free Network Analyzer intercepts all network traffic between a selected network adapter and a remote host.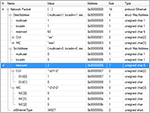 Parsing and Displaying Captured Network Data (Structure View)
Free Network Analyzer comes with a number of pre-installed protocol definitions that cover the most used intranet and Internet protocols. This data visualizer parses incoming data according to the defined set of protocols and displays the decoded fields in the upper pane. The lower pane shows the raw monitored data. Both panes are synchronized - you always see what part of raw data corresponds to what field.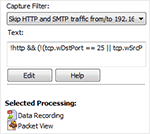 A filter is a single condition which follows the syntax of Protocol Definition expressions. It can refer to any field in captured packet and use any supported logical or arithmetic operator.
You can set the capture filter when you start new or configure running monitoring session. You can either select one of the predefined filters or create your own.